Agency Life
Bolt Bio: Mitch Barnhill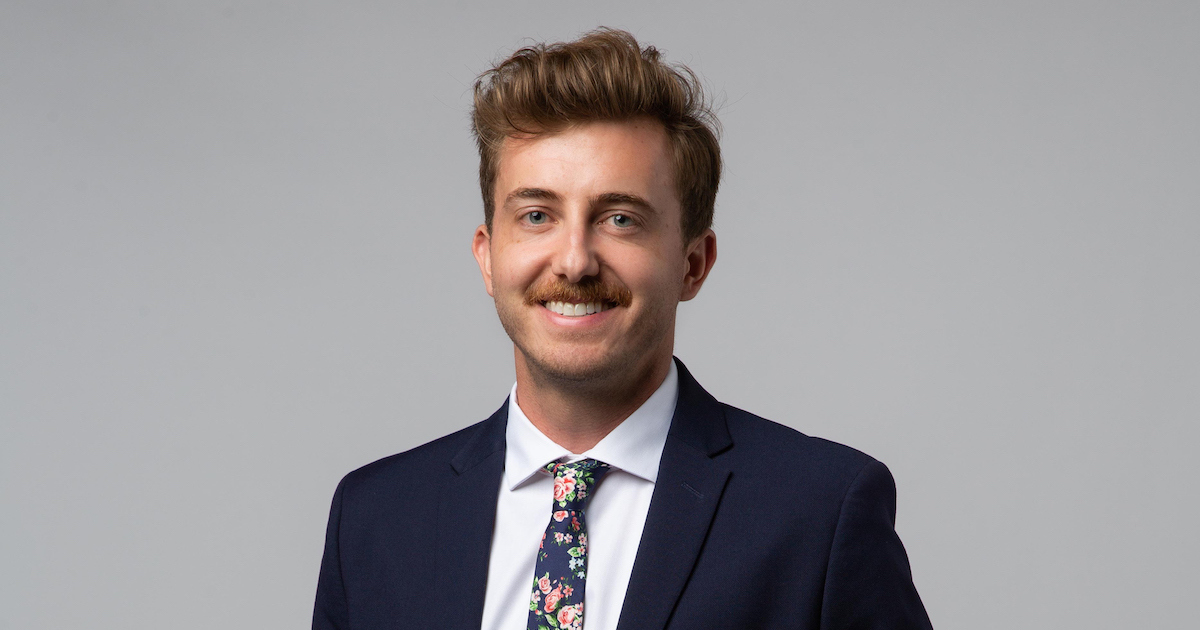 "If opportunity doesn't knock, build a door."
Name: Mitch Barnhill
Title: VP, Campaign Studio, Texas Market Lead
Favorite Beverage: Espresso Martinis (they are having a moment and I'm here for it)
TrendyMinds Office: San Antonio 🤠
Q. What does the Campaign Studio at TrendyMinds actually do on a daily basis?
A. Think of the Campaign Studio as the external marketing arm for our clients. Our team is responsible for understanding client objectives and goals, building strategies to accomplish those goals, and implementing tactical plans that lead to success for our clients.
Now, that may seem like a lot of marketing buzzwords, but take our client, Early Learning Indiana, for example. They have just recently launched a groundbreaking Early Learning Marketplace to connect early education providers with families in need. It's our job in the Campaign Studio to build the strategy to make families more aware of this tool while also driving provider sign-ups on the platform. This project is accomplished through a combination of digital advertising, website content, email marketing, and constant monitoring of our campaign channels.
Q. What is your favorite part about working in the Campaign Studio?
A. Because the Campaign Studio encompasses so many different channels, services, and project types, our team is full of creative problem solvers. I love working with them for this very reason. We are constantly presented with challenges or barriers that require a unique solution. It keeps us on our toes!
Q. What were you up to before you joined TrendyMinds?
A. I'm actually what they call a "boomerang" — meaning that I worked at TrendyMinds back in 2016–2019 before joining a brewery — Braxton Brewing Company — located in Cincinnati, as their Head of Marketing.
While I love beer (and all the fun activities that go along with it), I knew my real passion was in the fast-paced, strategic side of agency life. In 2020, I rejoined TrendyMinds to help them grow their digital team, which now makes up the Campaign Studio.
Q. What is your personal marketing philosophy?
A. I am continually trying to push myself outside of my comfort zone. Whether that is in the type of client work, new advertising channels, or even just challenging our internal processes to make them more efficient, I find that comfort can breed complacency. That is especially true when working for an agency – projects change on the daily, so it's important to be open to change and continually push yourself to be better at your craft.
Q. What's your advice for anyone considering a career like yours?
A. When I first got started in marketing, someone I look up to told me, "In this field, no one will tell you how good you're doing, you have to show them," and I've kept that with me all these years. To me, that quote has a few different meanings, but most importantly, it tells you that your career and professional success should be tracked and measured by yourself.
Be the first person to set your personal and professional goals. Put immediate and long-term steps and benchmarks in place to track your progress. While a lot of this advice seems like standard goal setting and tracking, it's crucial that you take the time to prioritize your career goals and the hard work that it takes to get there.
By the way, check out our open positions.
Q. What's one client that you're really excited about right now?
A. One client that I am particularly proud of is Newfields, which includes the Indianapolis Museum of Art. They have just launched their second full year of The LUME Indianapolis, which is an immersive, cutting-edge art exhibition that allows the art to step out of the frame.
Our team has been working with Newfields since 2020, building unique, engaging digital ads to drive ticket sales for The LUME and all of Newfields' seasonal exhibits. If you're in Indianapolis or traveling through, be sure to check it out (but please buy your tickets through an Instagram ad first)!
Q. What do you do outside of #agencylife?
A. Now that I live in San Antonio, my favorite activities include exploring different neighborhoods, finding the coolest local coffee shops, and hunting for the best breakfast tacos in town. So far El Milagrito Cafe and Pete's Tako House are the front runners! If you're ever in town, let's skip the coffee catch-up and head straight for the breakfast tacos.

Learn more about TrendyMinds' expansion into San Antonio, Texas, and St. Petersburg, Florida.